Augmented Reality Training Guide
Reason Why Every Organization Needs AR Training
Teach your employees to look beyond their textbooks and change the world around them.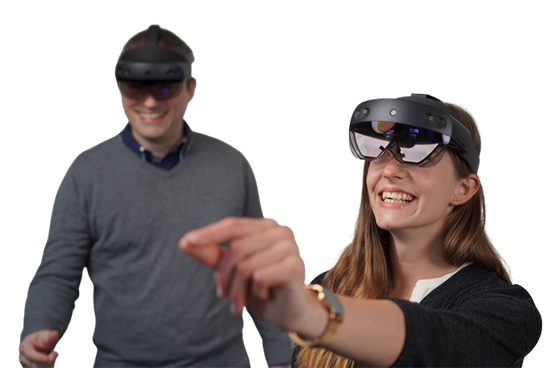 Learning With Augmented Reality
... Expands Your Trainees' Reality.
From the start of AR deployment, technology companies battled to overcome the notion that Augmented Reality is little more than a marketing tool.
Competitive Advantages
However, the benefits of AR are becoming increasingly evident. Retailers, for example, have already developed technologies to enhance consumer shopping experiences by integrating Augmented Reality into their shopping catalog apps.
Highly detailed 3D images of various body systems in healthcare are another area of application. AR can be a powerful learning tool for aspiring medical professionals.
The Present Market Situation For AR Training
Augmented Reality continues to gain momentum and is now being used in a wide range of applications.
For example, recent data predicts an estimated 1.7 billion mobile AR devices worldwide by 2024. That's 1.5 billion more than the 200 million devices in 2015.
What Is Augmented Reality Training?
Augmented reality refers to an extension of the real physical world by using digital visual elements or other sensory elements. To be more precise, AR overlays computer-generated items or digital information over the tangible world and thus enriches the real experience of the user. In doing so, Augmented Reality can be used via smart glasses, headsets, and smartphones.
Promising Technology
According to a survey conducted by ISACA, the professional association for IT auditors, accountants, and information security and IT governance experts, AR users in five different countries ranked AR as one of the top three technologies for training and development.
Increasing Importance
AR technologies are becoming increasingly important, especially for organizations looking to develop their technical skills in maintenance and repair or update their onboarding programs and change management initiatives. Similarly, as data collection and analysis increases, one of the main goals of Augmented Reality is to highlight concrete features of the physical world, improve understanding of them, and provide intelligent insights that can be applied to real data.
Augmented Reality Training Benefits
Inside any workplace, Augmented Reality can improve both trainee and experienced employee learning and understanding, lower training costs, as well as reduce the time to learn due to its high level of interactivity leading to improved efficiency of corporate training initiatives and other external stakeholders.
Augmented Reality Training Cons For Organizations
Since Augmented Reality distorts the real world while depending on the generation and distribution of data in the form of computer-generated perceptual data and user-generated feedback information, here are some things to consider.
With our learning platform 3spin Learning, all learning content is available on both VR and AR. This saves you a lot of money during the creation. We will gladly advise you on the many possibilities we offer with our software.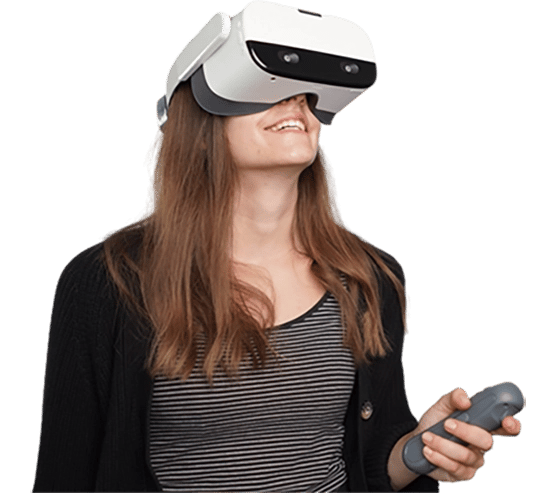 3spin Learning Supports You With Easily Deploy AR Learning Content Without Code
You would like to launch AR Training in your organization? Please do not hesitate to contact us to find out how 3spin Learning can support you
Top Fields of Application For AR Training Courses
For many years now, AR software based on phones has been recognizing environments and providing additional information about what is seen, e.g., live translations of texts or restaurant pop-up ratings. Much has happened in this regard in recent years, and now there is almost no training that cannot be designed for AR.
Occupational Health & Safety
Occupational Safety
Prepare employees for procedures and sources of errors.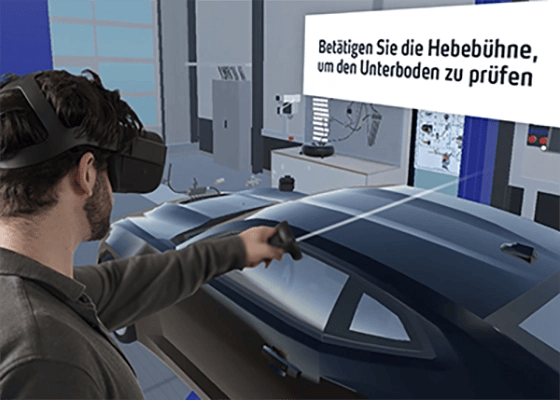 Training 4.0
Training
Personalize your vocational training.
Onboarding
Onboarding
Onboard new employees faster and more cost-effectively.
Additional Areas
AR Technology can guide assemblers during repairs, upgrades and maintenance of products and machines.
Thanks to AR, for example, the ability to react in dangerous situations such as power outages can be trained.
In the operating room, overlays support to display the critical steps of a surgery, patient data and additional patient information.
Planning And Construction
AR helps instructors recreate hypothetical learning content in real-world environments and augment it with virtual cues.
The creation of various learning scenarios in AR enables easy consolidation of what has already been learned and process optimization.
AR concepts help employees and customers alike to get to know the products.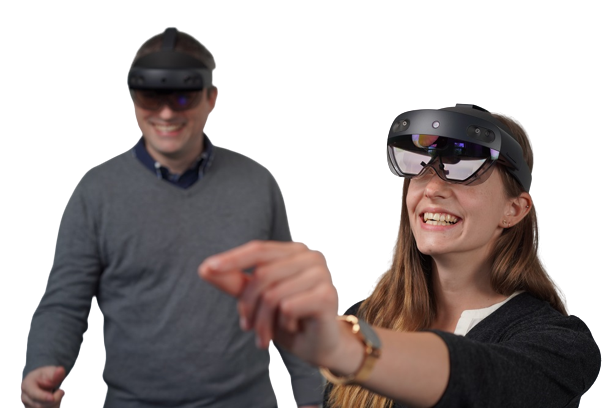 VR Features
Most Important AR Features
AR Training's two main components are cloud-based software and storage. For less storage footprint on a device, heavyweight AR algorithms, as well as metadata, 3D models, and additional instructional materials are stored in the backend. When needed, they can be quickly loaded and used by the client app.
An easily configurable virtual companion guides participants spatially, procedurally and narratively through the training
Multiple people can participate in the same training via the Internet or together in a real classroom with their AR glasses
Usable and reusable across multiple cloud instances
Any AR Training should be able to connect to a LMS such as Workday, Cornerstone, Docebo, or SAP SuccessFactors
Software receiving and analyzing data from the real world via the AR glasses' camera lens, smartphone, and sensors such as GPS
Metadata, 3D Models, And Media Loading
Server retrieval and on-demand loading of relevant comments and hints, 3D models, and voiceover guides or instructional videos
Screencasts allow you to follow a learning scenario via notebook
Automatic field-of-view scanning in the camera lens and analysis as an image on an XYZ coordinate layer to correctly overlay AR content
Our Top Features
By the way, 3spin Learning provides regular updates and upgrades to our software, and our team of experts would be pleased to provide advice regarding appropriate tech solutions. Let's have a look at the most important AR features.
Groundbreaking Augmented Reality
Various Possibilities
Different Types Of AR
Depending on the application, the various AR types will be more convenient, though they all share common characteristics. The two main types of Augmented Reality are:
AR Marker
An image called a marker is needed to create it. After scanning, pre-programmed AR content is activated.
Markerless AR
The technology for markerless AR is called SLAM, Simultaneous Localization, and Mapping, and is usually implemented with out-of-the-box software. SLAM-based AR solutions analyze the environment and capture visual data in the form of point clouds without the need for markers.
AR Marker
An image called a marker is needed to create it. After scanning, pre-programmed AR content is activated.
Markerless AR
The technology for markerless AR is called SLAM, Simultaneous Localization, and Mapping, and is usually implemented with out-of-the-box software. SLAM-based AR solutions analyze the environment and capture visual data in the form of point clouds without the need for markers.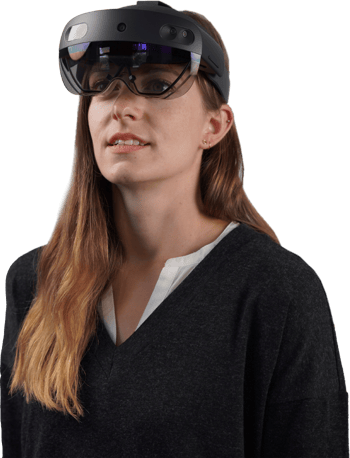 AR Costs
AR Training Costs
There are many factors that play a decisive role in the final price of an AR project. For example, are only a few AR features needed for a project or is a custom solution with complex features required? Choosing the right AR software package for your project depends on the platform and features of your app.
Create Your Own Content
Software solutions like 3spin Learning offer AR training experiences for low annual platform fees in the low four-digit range. In doing so, learning content can be created in-house, keeping the further cost of creation low as a result.
Customized Content
We and our partners offer both standard and customized options and are happy to advise on our advanced features.
In A Few Steps To Successful AR Training
How Does AR Training Software Work?
Several types of software algorithms are required to implement Augmented Reality, including the following:
Modeling the image reproduces the real world and can determine the difference between foreground and background, the boundaries between objects and points of interest, and additional information.
After mapping and categorizing the real world, the next step is to overlay Augmented Reality information on top of it. The 3D renderer creates virtual objects and places them in the appropriate location in the live image.
Content management is a back-end technology with a system that manages a database of virtual objects and 3D models.
Various open source and proprietary technologies are used to provide programmers with a framework for creating AR applications on the platform of their choice.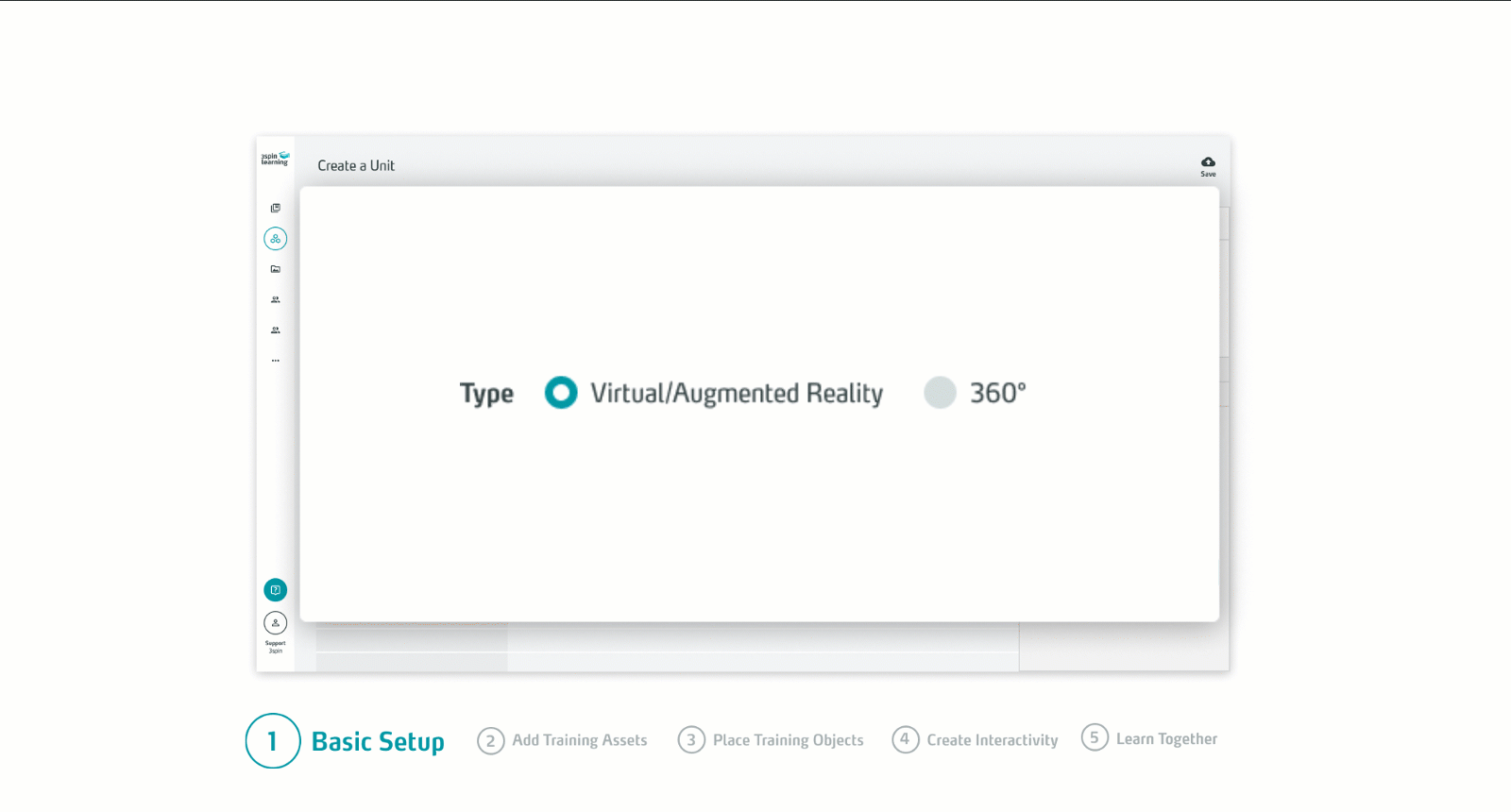 AR Training In Just A Few Steps
You can easily create and modify VR and AR training courses with our learning platform with just a few clicks - without programming knowledge or recurring revision costs.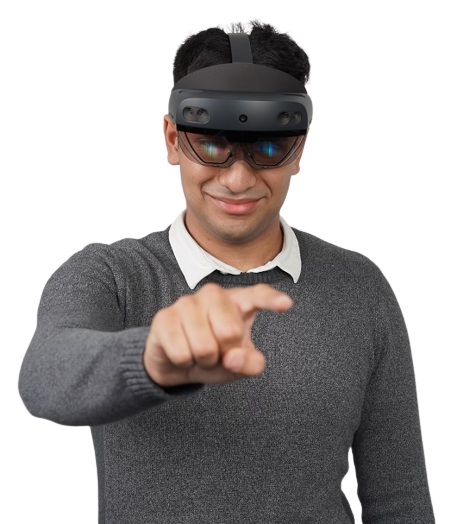 Why work with 3spin Learning?
"Thanks to 3spin Learning, we at Lufthansa Cargo have been able to reduce the failure rate in warehouse training by 80%."
– Brian Parzer, Training Product Manager, Lufthansa Cargo
Hardware
Main Devices For AR
As opposed to Virtual Reality, AR is not limited to a wearable device, but can also be used on phones, projectors, and PCs in addition to AR glasses or AR headsets.
For AR to provide users with an immersive experience, they need the following key AR elements:
To access Augmented Reality employee training experiences.
To align the real and digital worlds, AR systems need to process data about their environment.
A lens or image platform displays the content.
Smart Glasses And AR Headsets
The HoloLens, Meta2, or Magic Leap, for example, became the focus of the increasingly fast-paced developer scene due to their complex.
The first mobile devices for AR were later followed by tablets.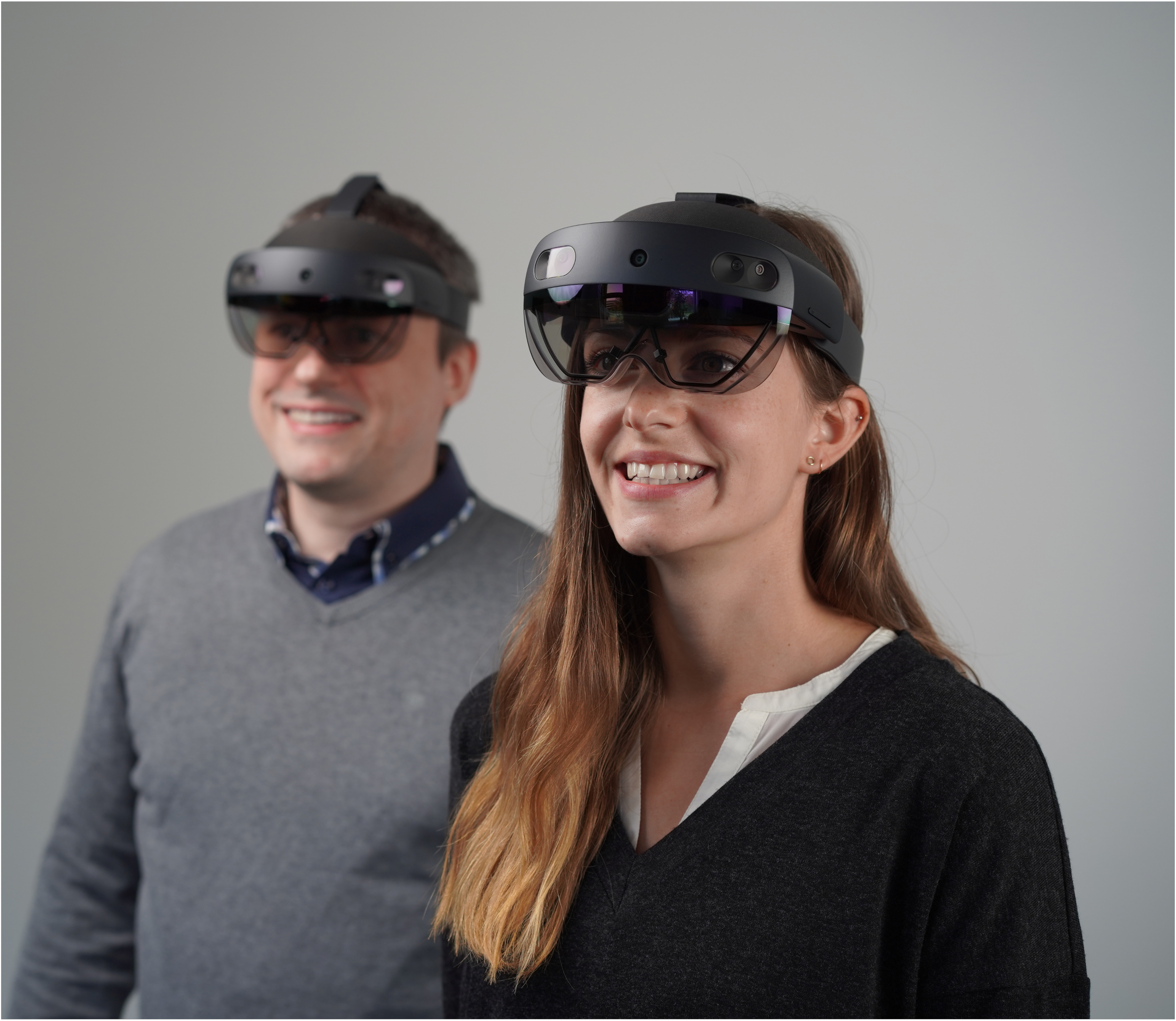 Into The Future
Drivers For Successful AR Training
Virtual Reality is considered one of the new technologies par excellence, however, the Augmented Reality market is close on its heels. The former temporarily transports people to another world, while Augmented Reality complements and enhances the natural environment already present. Other reasons include:
Target Acquisition Of AR Images
Employees can scan existing 2D images and superimpose 2D videos, text, images, or 3D objects over them. So-called AR image targeting can help employees do their jobs, enhance introductory training, or optimize existing e-learning courses.
Floor-level Object Separation With AR
Employees can place a 3D model of any object on a surface and then rotate or disassemble it to identify components, retrieve data, or find step-by-step instructions on how to repair or install the object.
Training With AR Learning Scenarios
Users place a 3D model of any object on a surface and can interact with the object while interacting with actors or objects through networked learning.
For Long-lasting Learning Objectives
At 3spin Learning, we work with companies to develop smart and effective training programs, delivering expert training design and cutting-edge technology. As a learning partner, we provide augmented reality learning content to help your employees achieve their learning goals with more ease.
Single Platform Support
Introducing AR Training Successfully To Your Organization With 3spin Learning
Our expertise in Augmented Reality in the learning domain goes back many years. We help enterprises such as DEKRA, the world's largest non-listed expert organization in the TIC sector, multinational science and technology company Merck and E.ON, one of the major public utility companies in Europe, to implement this technology quickly and easily.
No Code
At 3spin Learning, we developed a learning platform with no programming skills required. Anyone can use it to digitize hands-on learning. Companies can work directly with the authoring tool, enabling anyone and everyone to digitize hands-on learning.
Award-winning Learning Content
We or one of our certified service providers support the creation of training courses and respond flexibly to the individual needs of our customers for any number of learners worldwide.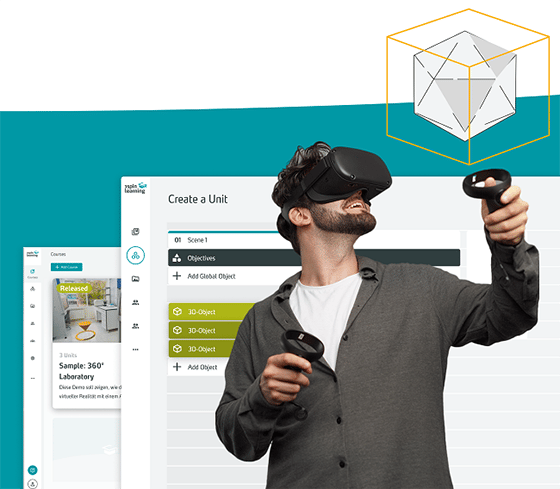 Learn More
Do You Have An Idea For AR Training?
Got an idea for an AR Training in your company? As an expert in AR learning, we at 3spin Learning are always delighted to support you in the development of your AR software concept.
Organizations Using 3spin Learning For Their AR Training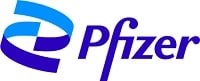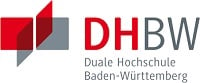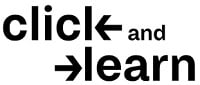 FAQs
How Can I Scale AR Training?
This requires considering not only content creation, but also the management, operational, and distribution aspects of your immersion strategy. An authoring tool helps you adjust as needed, and cloud distribution lets employees download all training with the click of a mouse.
Can I Try 3spin Learning for Free?
Yes, we will present 3spin Learning to you free of charge during a personal demo appointment (via video conference) and you may also participate in a training session yourself if you are interested. Request a demo appointment.
Is My Data Safe With 3spin Learning?
The protection of your data and your trust are very important to us. Therefore, we have implemented technical and organizational measures to ensure the security of processing, which we are continuously developing. 3spin Learning's data hosting is based on Microsoft Azure.
How Many Employees Can Learn With 3spin Learning?
Our learning platform is not limited to a specific number of learners.






Posts You Also Might Like