What Is 360-Degree Training - And Is It Worthwhile Using Them?
Along with virtual reality, videos are one of the most interactive online training tools around. What's making them even more engaging are 360-degree videos or photos to give online learners a full picture.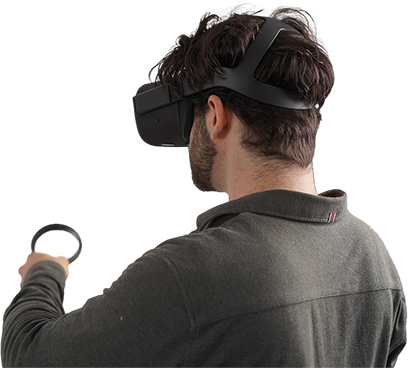 You've probably used Google Street View to explore different locations. Thanks to 360-degree photos or videos, you can leverage these very same panoramic views. For example, companies have been using this technology for virtual in-house tours of their premises for years.
The potential and technology behind 360-degree videos or photos are impressive and can be achieved with little effort. For example, 360-degree photos or videos allow viewers to interact with an image and capture the entire environment with the camera. As a result, they differ from traditional photos and videos in that they allow users to experience environments as if they were present - standing in the front row of a concert, for example, or in the driver's seat of a race car.
Immersive video and photos offer endless possibilities and have become indispensable in the world of corporate training.
Today's Market Situation Of 360-Degree Training
With many conventional cameras becoming obsolete, 360-degree cameras are becoming more and more important. For example, they are already being used at numerous training sessions and events such as sporting events and festivals.
According to market research and consulting firm Precedence Research, the global 360-degree camera market is expected to be valued at around $4.64 billion by 2030, growing at a compound annual growth rate of 21.3% from 2022 to 2030.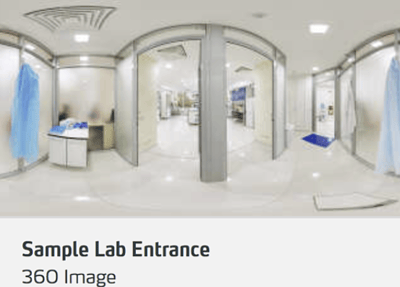 What Are 360-Degree Videos And Photos?
360-degree videos consist of video recordings of a real panorama in a wide-angle view. The view in all directions is recorded at the same time and captured with an omnidirectional camera or many cameras. As a result, viewers can determine the viewing direction themselves. Online training works like VR video, except that a VR headset is needed for VR Training, while this is not necessary for 360-degree videos or photos.
Anyone can create 360-degree photos or videos with the appropriate equipment. A custom-built 360-degree camera has usually two or three lenses each pointing in a different direction. The images taken by each lens are stitched together by the camera to create a complete 360-degree image.
What Is 360-degree Storytelling?
360-degree content is an excellent medium for storytelling. It conveys powerful and engaging stories to viewers and evokes positive associations. They immerse users deeper into the (learning) experience and leave a lasting impression.
The storytelling approach is one of the most common uses of 360-degree content, making use of it for more than commercial brand perceptions. For example, some charities have used 360-degree videos to tell stories about their mission.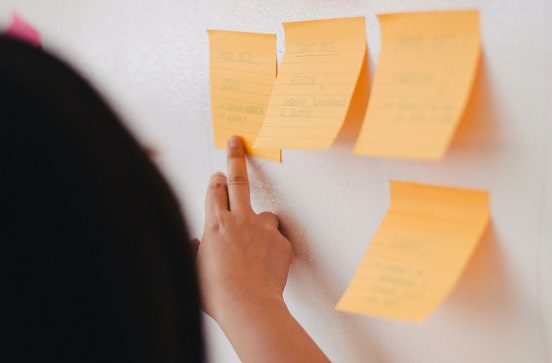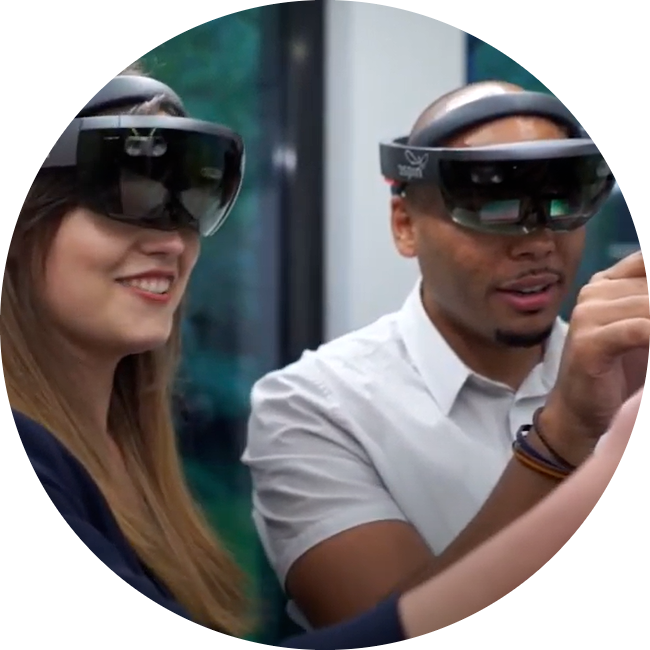 DID YOU KNOW?
Learn With 3spin Learning How To Build And Deploy 360-Degree Learning Content Without Code
You would like to learn how to scale from pilot project to a multi-site implementation across your organization with just one solution? Let us help you turn your training programs into immersive virtual experiences tailored to the needs of your business and industry.
360-Degree Training Advantages
You can view 360-degree photos and videos with or without VR glasses captivating with their high usability and high interaction effect: viewers have control over their experience and can choose the required content and perspectives, which in turn leads to higher engagement. The key benefits are capturing every point of view, more engagement and enhanced storytelling.
Also, not being forced to attend face-to-face events reduces costs and resources, while extracted data helps to streamline services and to create unique and captivating content.

Other important 360 degree training benefits include:
Greater Learning Impact
As an interactive learning experience, 360 degree Training provides teachers with an ideal platform for sharing experiences and an overall more effective and sustainable learning process.
Easier Accessibility
Virtual videos and photos provide students with personalized learning experiences that can minimize distractions using additional tools such as headsets.
Interactive Tours
360 degree learning videos or photos are a great way to demonstrate your premises and services to people.
Multi-location
Immersive 360-degree formats are effective because users can easily access them from their devices, and pause or replay videos anytime.
360-Degree Training Disadvantages
Even though 360.degree Training offers many advantages, the following disadvantages should also be taken into account:
Possible Technical Limitations
Streaming high-definition 360-degree video content requires a stable and fast Internet connection, as large amounts of data must be transferred.
Buffering
Buffering of video content may be compromised if the software of the 360-degree webcasting solution does not meet the requirements. This would limit the usability of the videos and could lead to dissatisfaction.
As a pioneer of 360-degree Training and Virtual and Augmented Reality, we at 3spin Learning know exactly which technology is essential and provide you with the right solution. We will be pleased to advise you on the many possibilities of our software.
Top Main Areas Of Application
Research indicates that training and instructing professionals on a new product or service is 30% more effective with 360-degree videos and photos than with 2D animated videos. Subsequently, most business leaders are now turning to this VR world as it can reduce the time-consuming organization of meetings and workshops.
360-degree videos and photos are best suited to illustrate complex situations, such as in the healthcare sector, which are difficult to depict with images. Areas of application are:
360-DEGREE TRAINING AT LUFTHANSA
Back in 2014, 3spin Learning developed an interactive exhibit for Lufthansa where trade show visitors could experience a trip thanks to VR glasses. Worldwide, more than 300 VR glasses with a sales app from 3spin Learning were used, which ensured an increase in upgrades of up to 50% as part of gate promotions.

Further Scope Of Use Of 360-Degree Training Courses
Healthcare
Immersive videos for surgical education and training show trainee doctors a surgical procedure with a full 360-degree view of the entire procedure.
Real-world Compliance Exercises
Online compliance or corporate policy training can be made more interactive and demonstrative, showing compliance protocols in action.
Technical Skills
Teach your employees how to assemble products or complicated machines using digital simulations.
Product Demonstrations
This technology can be of great benefit, especially in team training sessions. For example, instead of reading instruction manuals, you can follow along using a visual example.
Human Resources
Similarly, virtual tours of offices help job candidates and new employees to get an idea of their new employer.
Collaborative Webinars
360-degree immersion makes online learners feel like they are part of the audience, actively participating in the conversation, allowing questions to be demonstrated live.
Virtual Reality Case Studies
Case studies and real-world examples turn stories into realistic environments available for exploration and analysis.
Real Estate Industry

This sector also benefits from virtual tours of construction sites, properties, etc.
Organizations Using 3spin Learning For Their 360-Degree Training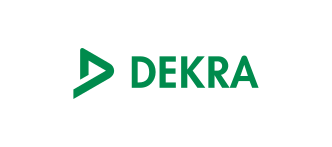 How Does 360-Degree Training Software Work?
Each asset consists of either an equirectangular 360-degree video or photo and can be used as a customized environment in training courses. Such virtual methods are the core elements of the 3spin Learning platform and are created in the Web Management System (WMS) and used in the 3spin Learning app. Within this, there are three types of training courses, which are categorized according to their output format. This in turn determines the basic structure of training.
Our team of experts will gladly advise you on ideal technical solutions. Initial setup steps could look like this:
1. Meeting
To get to know each other and agree on the content.
2. On-site Recording
Performed by us or you.
3. Configuration
Complete the online learning modules in our help center.
4. Customize
Complete the online learning modules of our Helpcenter.
Which Equipment Do I Need For 360-Degree Photos And Videos?
A wide range of devices is available for viewing individual photos and videos. The recordings can be viewed on a computer by panning through the video with the mouse pointer during playback.
In addition, videos on a tablet or smartphone work just as well as the classic virtual reality headsets, such as an Oculus Rift or an Oculus Quest.
Costs Of A Successful 360-Degree Training
Prices for customized 360-degree Training content are usually not accurate and customized training materials vary depending on requirements and the level of complexity required, such as the quality of the 3D modeling.

For an introduction to the product, a free trial version is suitable to get to know the software and all-round images. Still, usually, this trial training do not allow a full insight into all features of a 360-degree Training program.

Software solutions like 3spin Learning offer the use of 360 Training at low annual platform fees, and we offer both standard and customized options with our partners. Our team of experts would be pleased to advise you on the costs of a 360-degree Training: Find out more.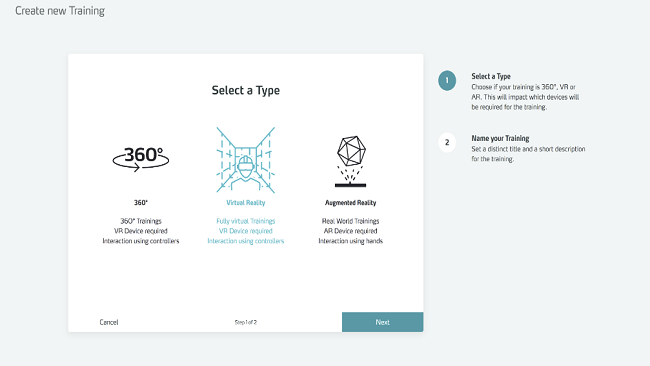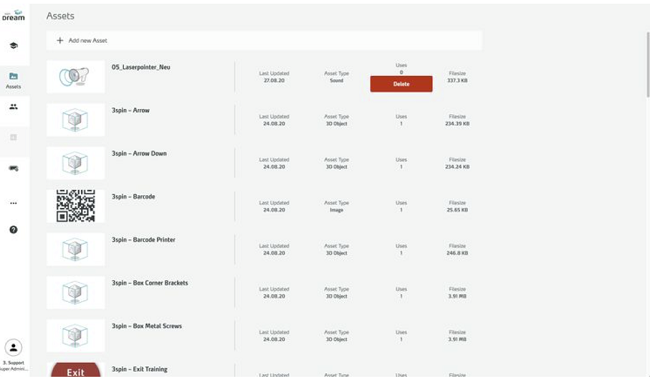 How Can I Scale 360-Degree Training?
For successful scaling, content creation as well as various management, operational, and distribution aspects need to be considered. Using an authoring tool, it is possible to make the necessary adjustments and, thanks to cloud distribution, download all online training with just one mouse click.
This makes it possible to create and process large volumes of data and reach a greater number of employees.
Easy Deployment With Our No-code Platform 3spin Learning
We help your organization create your interactive training courses with 360-degree panoramic photos and videos. Thanks to 3spin Learning, you can upload your own photos and videos or choose from our library. We help you add interactive elements and accompany you with step-by-step tutorials for business processes.
As long-time experts with extensive know-how of 360-degree training, we know what companies need to improve their employees' learning experience. We or one of our certified service partners provide support in creating training and respond flexibly to individual needs.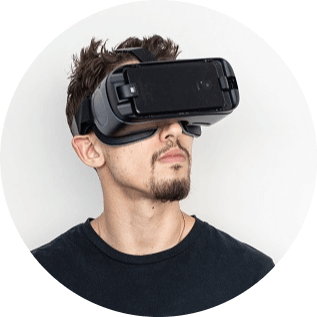 TURNING TRAINING INTO IMMERSIVE EXPERIENCES
Build And Deploy VR & AR Learning Content Without Code
So you have an idea for 360-degree training in your company? As an expert in mixed reality learning, we at 3spin Learning are happy to support you in developing your software concept.
How Do I Create 360 Videos And Photos?
Creating with 3spin Learning is a breeze. When you choose 3spin Learning, you can simply select the type of training you want and add or configure the objects. Then you position the objects in the app and test your training.
Where Can I Download Free 360-Degree Footage?
There are many content libraries for 360-degree photos on the web and we are happy to help you with any questions you may have.
Is My Data Safe With 3spin Learning?
The protection of your data is very important to us. That is why we use state-of-the-art and GDPR-compliant data security.
How Many Employees Can Train With 3spin Learning?
Our learning platform is not limited to a certain number of learners.
Can I Do A Free Trial Training With 3spin Learning?
During your face-to-face demo, we will introduce you to 3spin Learning for free and you may also participate in a training session yourself if you are interested. Request a demo appointment today.
Posts You Also Might Like
VIRTUAL REALITY TRAINING
Creating Successful Learning Scenarios With VR Training
VR Training as key for modern and long-term training methods.
Read More
AUGMENTED REALITY TRAINING
Why Every Company Needs AR Training
All about the value-added use of augmented reality and how it can enhance your business reality.
Read More