No-Code Metaverse Features
Enabling Affordable VR / AR & AI Training Using Smart Features
Harness the future of learning today and create impactful and cost-effective VR / AR & AI training with our easy-to-use features.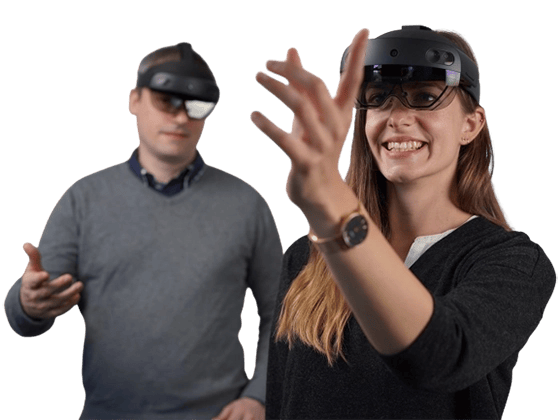 Your Learning Platform For VR / AR & AI Training
3spin Learning easily creates, distributes, and deploys unforgettable immersive experiences using a wide range of features.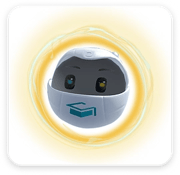 Helper Companion
Our easily customizable virtual companion guides learners through training and supports independent learning.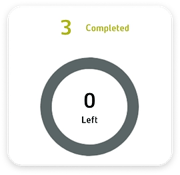 One of our core features, Objectives, allows learners and trainers to track and measure progress.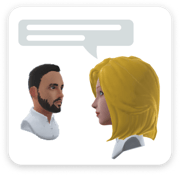 Learn Together
Learners can access and partake in courses simultaneously, regardless of location.
For Authors
Intuitive Authoring
Create an
immersive learning experience in a matter of hours
that works automatically on VR & AR headsets and on regular desktop PCs. Our web-based no-code editor allows you to independently create, manage and deliver your own virtual and augmented reality training
–
without needing to program any line of code.
glTF Connection

Interactive Objects

Logic & Conditions

Asset Library
Import Low-Cost 3D Models With Ease
For the use of 3D models, the glTF ("GL Transmission Format") is now considered the "JPEG of the metaverse". Such files can be found in numerous 3D databases for cheap or even free of charge. By using glTF in our authoring tool you benefit from:
Import affordable 3D models from other databases
Fast loading times due to compact file sizes
Use your 3D models as often as you like without additional costs
Future-proofing due to a modern file format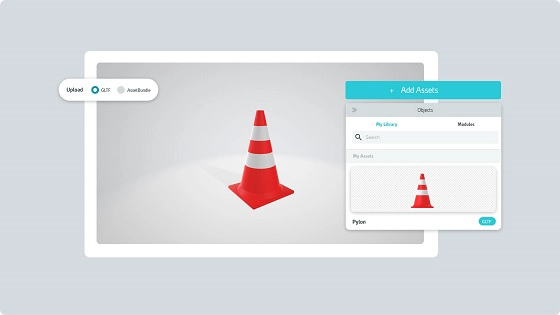 Make Everything Come Alive
Do you already know "transparent hotspots" from web-based training courses? The Transparent Shape is the counterpart of the VR & AR world. Invisible to learners, the shape allows you as the author to assign interactions to it and place it in front of any other objects in the training that would not actually be interactive. This allows you to:
Bring any object to life
Display or play images, 3D models, or sounds
Adjust at any time without editing the objects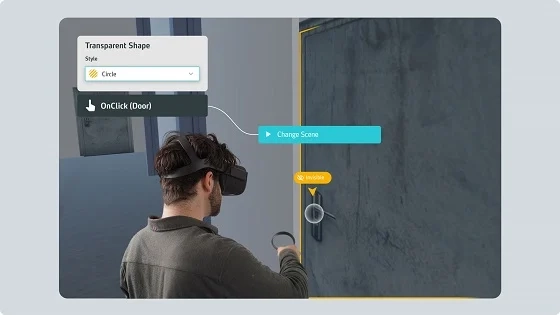 Smart Up Your Training
Challenge learners by defining different decision paths — again, without programming. Make your training more versatile and customized by adding Conditions"(conditionals). Depending on the actions of the learners you can:
Recognize right or wrong actions and give feedback
Make objects appear/disappear under conditions
Trigger scene changes
Ask and evaluate quizzes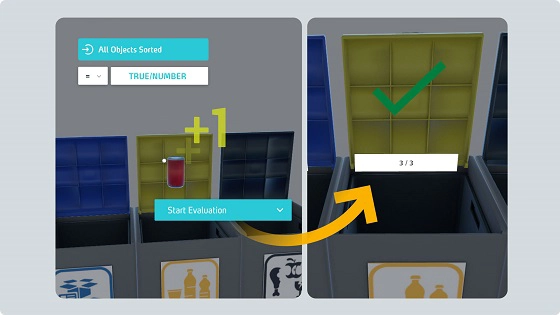 3D Objects, Rooms & More Included
Browse our media library, which we are constantly expanding. You may already find objects suitable for your training such as:
Customizable hotspots
3D shapes and 3D objects
Info or warning icons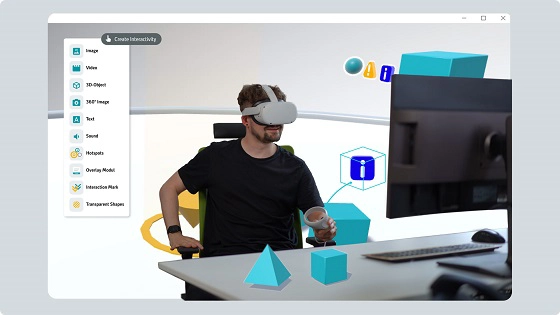 For IT Departments
Easy Management
Take advantage of our powerful immersive training management capability. Thanks to our many years of experience in the enterprise sector, we know exactly what is required and perfectly align the features of our platform with it. This makes VR & AR courses integrable and scalable with just a few clicks.
LMS Integration

Updates

User Management

Cloud Hosting

Data Security
LMS Integration
You would like to connect 3spin Learning to an appropriate Learning Management System? We can do just that and will gladly arrange an individual consultation with you.
Connection to popular LMS like Workday, Cornerstone, Docebo, or SAP SuccessFactors
LTI standard for easy and secure connection of learning applications and tools
Merge different L&D activities
Hardware Compatibility & Updates
We support various devices like VR & AR headsets, but also simply desktop PCs (without glasses) for maximum compatibility and scaling. We offer:
Constant further development
Automatic updates via appropriate (business) stores
Compatibility with the latest device classes
Manage Courses & Users
With our integrated user management, users can take on different roles such as administrator, author, or learner, even without an LMS connection. Each course can be individually assigned to learners who will only see published and assigned content.
Individually assigned VR & AR content
Different roles such as administrator, author, or student
Option to capture and further process learning outcomes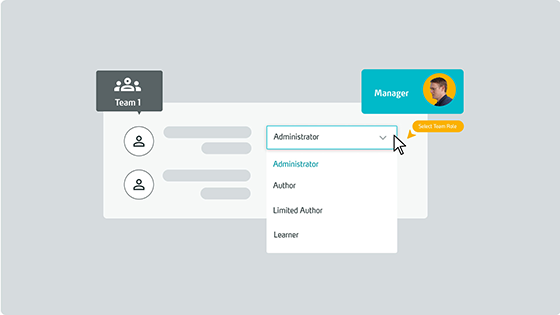 Scalable In The Cloud
Secure hosting of all training on Microsoft Azure enables flexible scaling on any number of devices worldwide. More than 3,500 cybersecurity experts help protect your data.
Flexible scaling
Easy update features in a web interface
Docker containers with flexible on-premises or cloud deployment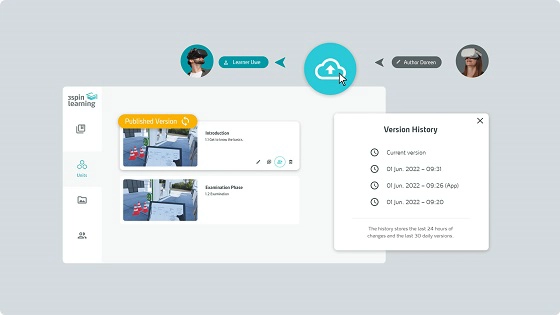 Your Data Is Important To Us
The protection of your data and your trust is very important to us. Therefore, we have implemented technical and organizational measures to ensure the security of processing, which we are continuously developing.
ISO 27001 Certification
SSL Labs Rating A+
256-bit strong encryption
EU-DSGVO compliant
Data center in Germany (Microsoft Azure)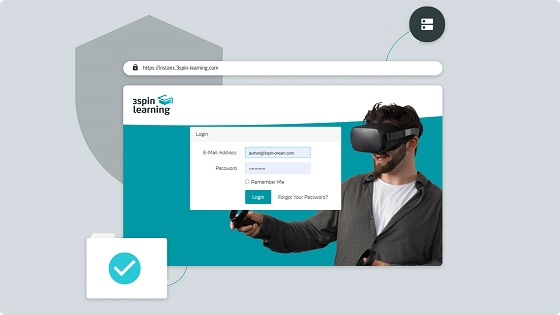 For Trainers
Location-Independent Deployment
With 3spin Learning, trainers can conveniently conduct VR & AR courses. Trainers benefit from

interactive and location-independent courses

in which trainees can participate flexibly and at any time while still being virtually connected with their trainers.
Learn Together

Desktop App

Success Report

Helper
Learning Together In The Metaverse
Multiple people can participate in the same training with their VR or AR glasses - remotely over the Internet or physically together in a classroom. In this way, multiple learners can observe each other's actions in training, or one trainer can oversee a scenario.
Trainers can supervise and support a course in Observer mode
Remote control can be used to trigger specific actions, such as loading a scene or playing an animation
A group of learners can observe individual learners via notebook or connected TV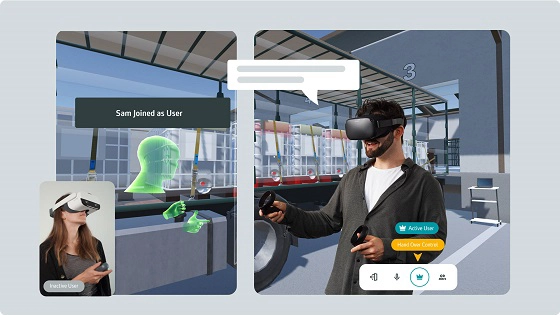 Practical Learning Even Without VR Glasses
In this mode, the full functionality of the app is available on your PC. This allows you, as a learner, to conduct training alone or together on a network without using VR or AR glasses. If you have an authoring account, you can also edit your courses on your PC.
Each training is also controllable with a mouse & keyboard without further editing
Courses can be used by many learners in the company without the need to purchase hardware.
Authors can edit courses on their PC
Measure Learning Success
3spin Learning offers you an easy-to-use mechanism to measure success: A scene is considered successful if all objectives defined in it have been achieved. Each "action" in the training can be a learning objective. At the end of the training, the learner can receive a report on his success with respect to the training objectives.
Define a training objective with one click
Every action can be part of a learning objective
Measure learner success and provide feedback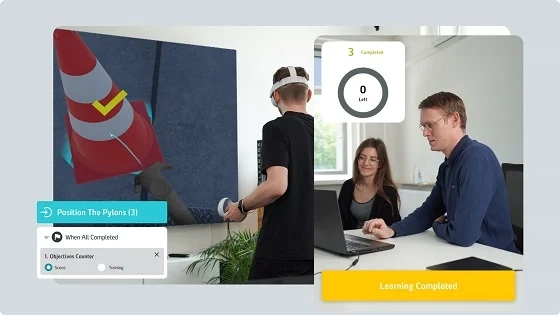 Empower Your Students
An easily configurable virtual companion can support your learners. This provides a sense of security and guides learners through the training - spatially, procedurally, and narratively.
Virtual assistant guides learners
Provide cues and instructions
Simplifies entry for "newbies" and makes it fun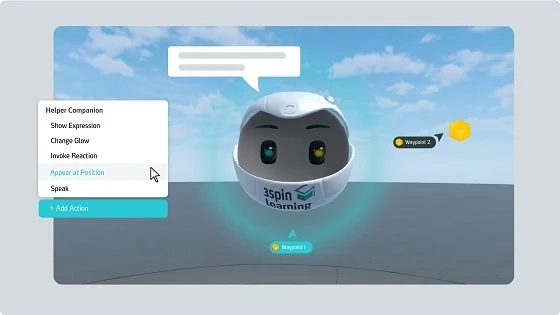 Get Support
Take your training programmes to the next level and develop your trainingcourses yourself with our easy-to-use modules.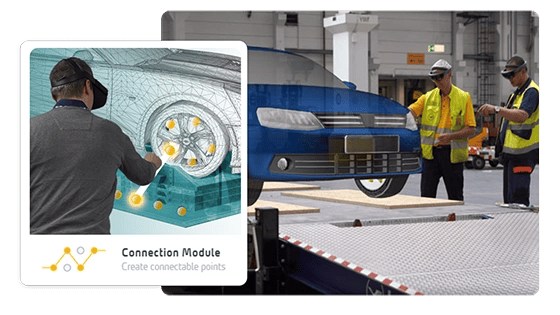 Connections
Prepare staff for procedures with the Connection module
Workflows
Practise step by step different linear or non-linear processes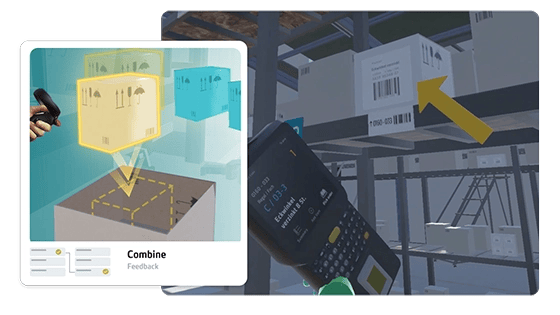 Combine
Let 3D objects arrange, sort, and react to each other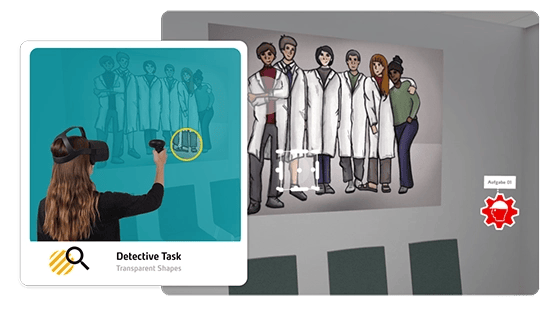 Debugging
Check learners' knowledge with our transparent triggers
How Would You Like Your Training To Develop?
3spin Learning keeps growing with your needs - without you having to "hire" us, we keep expanding our learning platform. We look forward to your feedback and further questions about our features.
Our Services
Thanks to our many years of collaborating in the field of VR & AR with internationally renowned clients such as Lufthansa, DEKRA and E.ON, we know how to develop cutting-edge virtual solutions and implement immersive training programs quickly and effectively.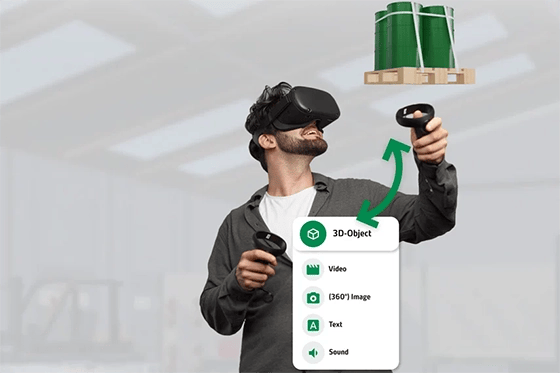 Easy Creation
Create VR & AR learning content on your own using our unique no-code platform.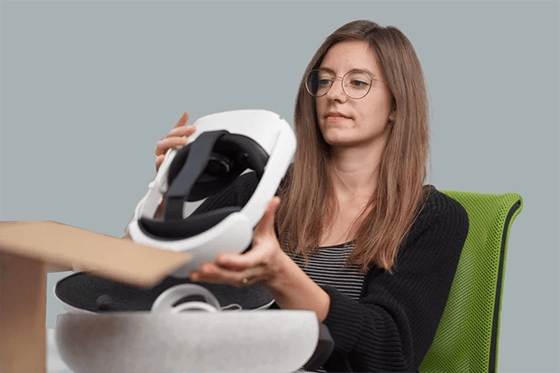 VR Starter Package
For a quick start, we offer complete consulting, and software licenses and hardware.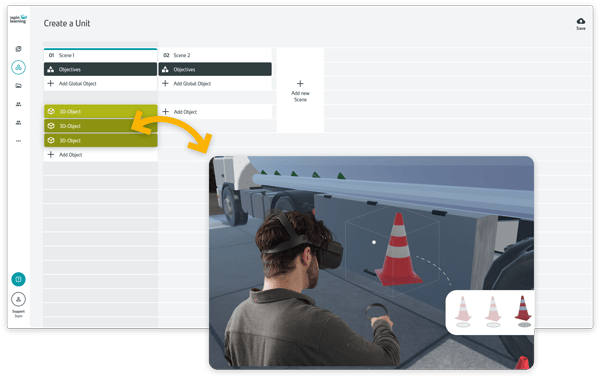 Customized Content
3spin Learning or one of our certified partners can help you develop custom-fit training courses.
We Look Forward To Your Queries About Our VR & AR Features
I look forward to talking to you!
Free Consultation
Get to know our 3spin Learning authoring tool and our various VR & AR features.