VR & AR Learning
Having accompanied the creation of many VR & AR trainings and having dealt with the scientific results of such, we would love to share with you what we have learned – spoiler: memory retention is higher and costs are lower.
VR & AR Learning Is Superior
Traditional e-learning often requires a high level of abstraction in the brain and is difficult to "translate" when applying knowledge in the field. Classroom courses additionally cause significant travel costs.
By supplementing your courses with Augmented and Virtual Reality, you can convey complex or potentially dangerous content anywhere in a practical way, making it more memorable, safer and cost efficient.
Learners train practically and remember the content better
Enables safe training for complex / dangerous situations
Can be used anywhere without travelling and reduces costs
Practice-oriented Learning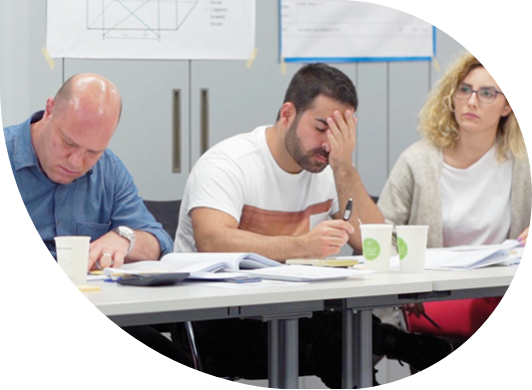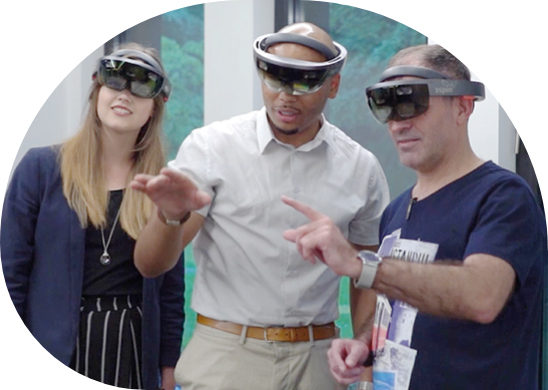 Success In Numbers
A recent study on VR soft skills training by PwC showed staggering results in comparison to traditional learning methods (e-learning & classroom training). Among their findings, learners felt significantly more connected to the content, had increased confidence and completed their training much faster:
2.3 x
Increased emotional
connection to content
4.0 x
Faster training completion compared to classroom
275 %
Increased confidence in applying the new skills
>50 %
Lower costs compared to classroom (3,000 learners)
More Successful Examples
The PwC study is not alone: Lufthansa Aviation Training, in cooperation with the Department of Psychology at the TU Berlin, found that VR increased the performance of pilots by 15 %. Lufthansa Cargo also had a training course examined – the results of the training itself and the study at the Department of Educational Sciences at the University of Mainz are convincing:Erziehungswissenschaften der Universität Mainz sind überzeugend:
Augmented Reality Training
With 3spin Learning & AR, Lufthansa Cargo Reduces Exam Fail Rates From 36 To Just 7%.

Why VR & AR Are More Memorable
Today, e-learning mainly addresses the semantic, fact-based human memory. With the addition of VR & AR, it is now possible to additionally activate experience-based and motoric areas of the brain.
With VR & AR participants memorize a training course like a real-life event. Thus, courses are better remembered and ultimately lead to a higher training success.
VR is the most appealing and emotionally positive learning method compared to textbooks and videos.
– Study by Warwick University, England
The "Better Reality"
VR & AR training is not only superior to other forms of digital and classroom training – it can even be better than learning in the "real world".
In reality, dangerous training situations are often not feasible or can cause significant setup and travelling costs. Also, trainings can often only be done once because of those restrictions.
Using AR & VR any situation can be practiced safely anywhere with potentially unlimited repetitions, which are one of the main drivers of training success.
More Details On Virtual Training Methods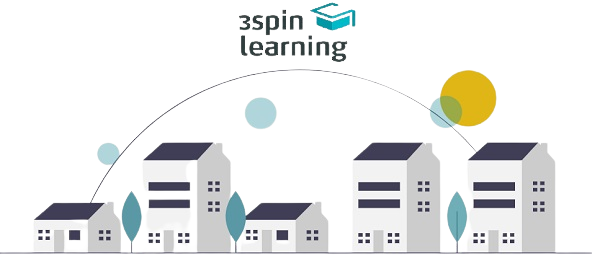 3 Challenges For VR & AR Learning
While VR & AR training is highly successful, there are 3 major challenges when using individually programmed courses without a platform:
1
Expensive To Build
In the past, creating VR or AR trainings was often expensive. Scenarios had to be individually programmed or created in gaming software and VR and AR were considered separately, thus causing double costs.
2
Hard To Operate
In the past, an isolated pilot project only needed to be the training itself. However, operating it in an organization requires more (user management, multi-user, …) – too expensive to build for one single training.
3
Difficult To Scale
In the past, programmed trainings needed to be manually installed on each device and were quickly outdated. Changes required costly reprogramming. And: there was no place to "purchase" standard trainings from.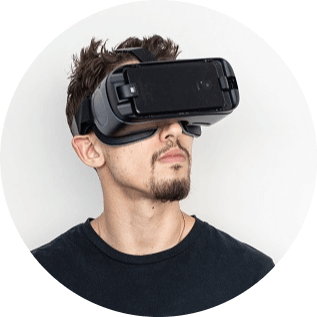 WE SUPPORT YOU WITH THE IMPLEMENTATION
Easily Create, Distribute And Deploy VR And AR Learning Content Without Programming With 3spin Learning
Let us provide support for these challenges and ensure that organizations reduce costs in the short and long term. Besides, effective VR Training doesn't necessarily have to stand on its own, but can be part of a blended learning program where different training modalities are used to achieve the learning objectives. Learn more about how 3spin Learning can help you achieve this.