Virtual Reality
VR Creation Platform Enables Boehringer Ingelheim For Faster And Safer Learning
Leading pharma company Boehringer Ingelheim enables hands-on learning by allowing employees to immerse themselves in otherwise hardly accessible laboratories through VR to practice autonomously, safely, and without the need for scarce resources.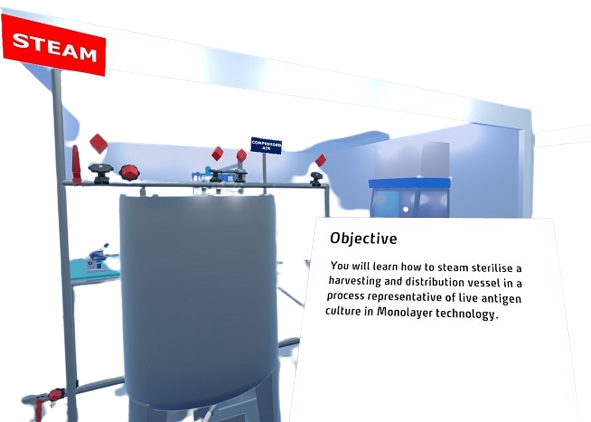 "It's time VR & AR become learning technologies that everyone can use: 3spin Learning's platform makes immersive scenarios as easy to build and access as a PowerPoint presentation."
— Romain Jorcin (Innovation Project Specialist, Boehringer Ingelheim)
Challenge


Working in laboratories poses numerous potential hazards such as burns and explosions. Learning safety rules and procedures is essential. However, laboratories are usually highly occupied, and some even require vaccination to be entered. Therefore, access for learners is very restricted and many learning tasks currently need to be 'imagined' theoretically.

Solution


3spin Learning allows Boehringer Ingelheim to easily create VR lab training those newcomers use to familiarize themselves with their future working environment from day one. 3D models or highly realistic 360-degree photos are easily turned into interactive scenarios for VR glasses and Desktop PCs. This way, employees can practice flexibly until they master protocols and procedures safely.

Success


Compared to just 'imagining', VR modules allow for hands-on training. Thus, Boehringer Ingelheim increases learning success, reduces the need for resources, and hopes to decrease training time from months to just weeks. Further 3spin Learning will make VR & AR a normal tool that anyone at Boehringer Ingelheim can use to learn with and even create scenarios without any code.